Welcome to Five in Five, a monthly publication from the Investment Team at BTC Capital Management. Each month we share graphs around five topics that illustrate the current state of the markets, with brief commentary that can be absorbed in five minutes or less. We hope you find this high-level commentary to be beneficial and complementary to Weekly Insight and Investment Insight.
This month's Five in Five covers the following topics:

1. Rents Are Up
Rents up significantly from a year ago. One-bedroom rents are up 21% and two-bedroom rents are up 17%.
Housing is strengthening as increased rents push renters to the stability of mortgages.
The potential for increased mortgage rates through 2022 has contributed to a pickup in housing activity.
Demand for homes is expected to be high through 2022.
Increased supply costs is contributing to higher home prices.

2. Is the Tide Going Out?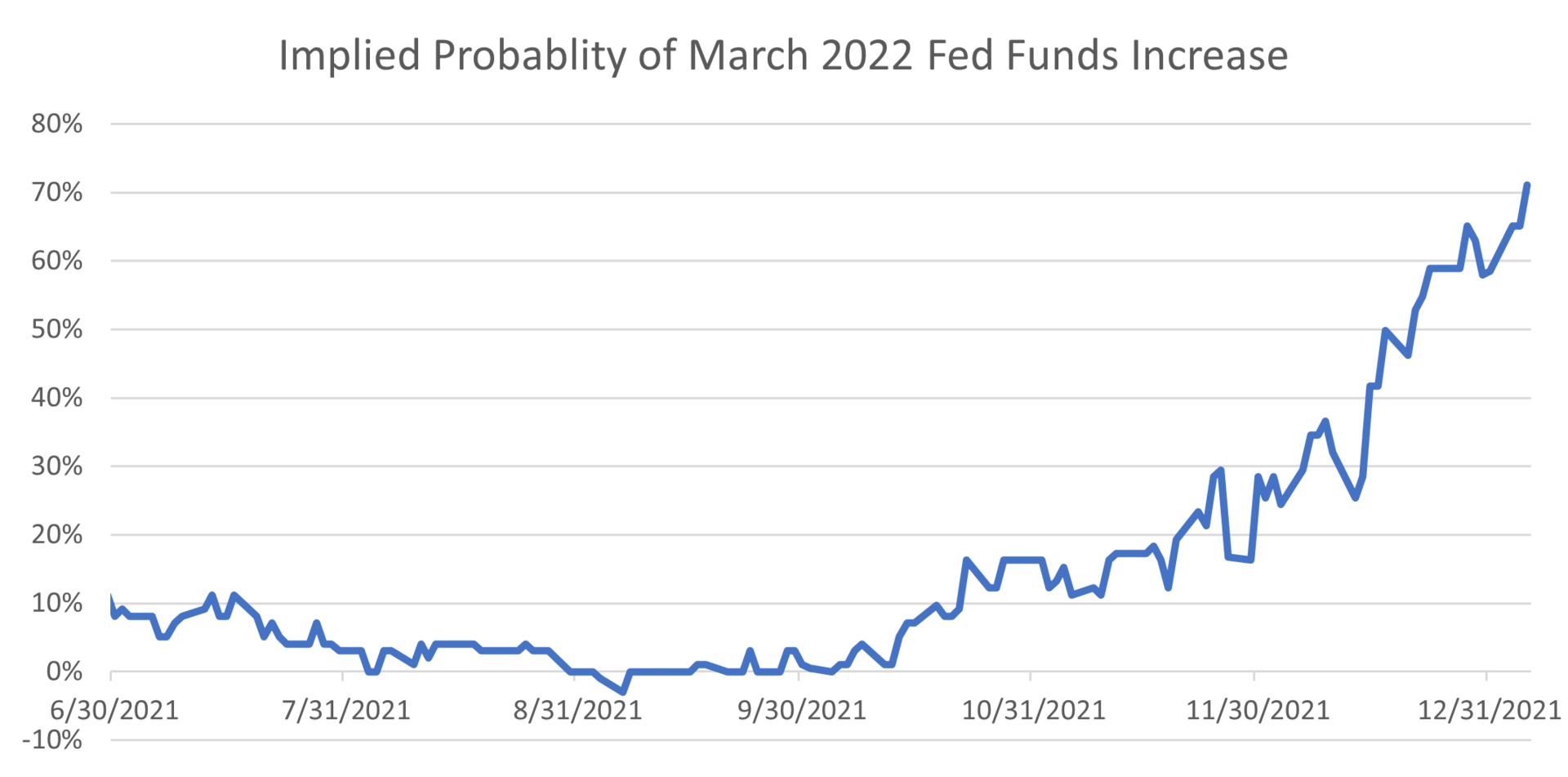 Hawkish December Federal Open Market Committee (FOMC) meeting minutes sent both stocks and bonds lower to start the year.
The FOMC opened the window for faster rate hikes and even noted that balance sheet reduction should begin sooner and has material room to shrink.
This is a maximum hawkish message.
There is the potential to have 7% CPI, 7% GDP growth, and a three handle on the unemployment rate for December. This is in addition to a zero Fed Funds Rate.
Hard to see a pre-emptive market friendly move given these conditions.

3. Stretched Valuations
Valuations continue to appear stretched relative to historical data, as exhibited by the trailing 12-month Price-to-Earnings ratio (P/E).
For domestic stocks, represented by the MSCI USA Index, the P/E has retracted from a recent high of 34.8x, currently it stands at 26.1x which is materially above its historical average of 19.9x since Dec. 31, 2003.
Outside the United States, the P/E of foreign stocks as represented by the MSCI All-Country World Index ex-USA is currently near its historic average; 16.4x versus 16.2x.
While equity markets exhibited positive returns in each of the last three years, valuation is one factor.
Yields, which have recently risen, remain low when looking back over the last 20 years. A stable yield environment, coupled with a modestly expanding economy supporting profitability may provide an environment for continued equity performance, albeit constrained relative to prior years.

4. Investors Should Not Rely Solely on Quantitative Models
Investors are forward-looking and most want to anticipate how their portfolio may perform over time.
The chart above presents an "Efficient Frontier" incorporating projected returns and associated risk of a constrained portfolio consisting of 45% Bloomberg Aggregate (fixed income proxy), 43% Russell 3000 (US equity proxy), and 12% MSCI ACWI ex-USA (foreign equity proxy).
Using a Black-Litterman Implied model of returns, one can see the projected returns for this constrained, balanced allocation for a given level of risk.
We've experienced some of the best equity returns over the last three years, given global economic growth, low interest rates and surging corporate profitability.
Given recent equity performance, it may seem intuitive to skew an allocation toward equities, in this case foreign equities given their overall market capitalization (within a global market perspective) and valuation (see our Valuation chart).
While this "Efficient Frontier" may project a positive future, investors should not rely solely on quantitative models. The performance of specific asset-classes, thus underlying investments, can and will fluctuate over time. Specifically, one should consider investment goals, risk tolerance, and investment time horizon in addition to other criteria.

5. Year-to-Date Returns
This chart presents year-to-date (YTD) returns through Jan. 7, 2022 for the Bloomberg Aggregate, a proxy for fixed income, and the S&P 1500, a broad measure of domestic large cap, mid cap, and small cap equities.
For this brief period, fixed income performance has been negative given the recent rise in yields. The yield on the USTN 10-Year currently stands at 1.76% versus its close as of Dec. 31, 2021 of 1.49%.
U.S. equities, for the most part, have started 2022 to the downside. Rising yields, inflation, and other concerns have muted investor sentiment so far.
Value has been a bright spot, exhibiting positive results. Financials, the largest component of the Value index, has stood out as has Energy, which has continued its 2021 run into 2022, posting double-digit returns during this short period.
Growth has underperformed, as sectors such as Information Technology and Health Care have borne the brunt of the recent drawdown.
---
Source: BTC Capital Management, Bloomberg L.P., FactSet, Refinitiv Workspace
The information provided has been obtained from sources deemed reliable, but BTC Capital Management and its affiliates cannot guarantee accuracy. Past performance is not a guarantee of future returns. Performance over periods exceeding 12 months has been annualized.
The information within this document is for information purposes only and is not intended as an offer or solicitation with respect to the purchase or sale of any security. Statements in this report are based on the views of BTC Capital Management and on information available at the time this report was prepared. Rates are subject to change based on market and/or other conditions without notice. This commentary contains no investment recommendations and you should not interpret the statement in this report as investment, tax, legal, and/or financial planning advice. All investments involve risk, including the possible loss of  principal. Investments are not FDIC insured and may lose value.